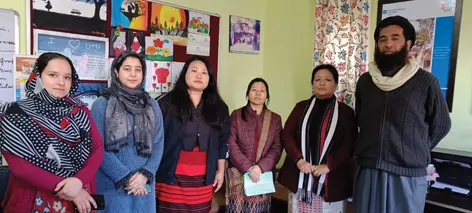 ITANAGAR, 27 Mar: The team of the Arunachal Pradesh State Commission for Protection of Child Rights (APSCPCR) concluded the second phase of its exposure trip with a visit to Meghalaya recently.
The purpose of the tour was to "get an insight into the work culture and functioning of the selected state commissions for protection of child rights of the country," the commission informed in a release.
In Meghalaya, the team, led by APSCPCR Chairperson Gumri Ringu, met the state's SCPCR Chairperson IM Syiem and other members and officials.
During their meeting, Syiem highlighted the initiatives of the Meghalaya SCPCR, like
creation of its own YouTube channel, digitization of data, and raising funds from all the departments to meet challenges.
She spoke also about teenage pregnancy, the POCSO Act, and substance abuse prevailing in the society.
The APSCPCR team also visited Sneha Bandhan, an orphanage.
The team had earlier visited Assam on 23 March and met the officials of the Assam SCPCR.
The team, which started its tour on 12 March, also visited the West Bengal SCPCR, and the Child Welfare Committee office in Srinagar (J&K), besides the childcare institute, and 'Save Our Soul', it said.