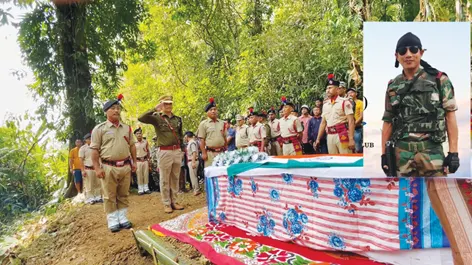 KAIMAI, 28 Mar: The last rites of Wangniam Bosai, the IRBn constable who was killed in the line of duty on 26 March at the jail in Tirap HQ Khonsa, was performed with state honours at his native village here on Tuesday.
Hundreds of mourners, including 1st IRBn Commandant Satyavir Katara, Tirap SP Kardak Riba, 36 Bn CRPF Commandant Pawan Kumar Singh, 36 Bn CRPF Second-in-Command MS Yadav, Khonsa ZPM Wanghong Panka, Kaimai village GB Tawang Wangsa, and chief of Kaimai, K Lowang, thronged the residence of the late constable to pay their last respects.
The Arunachal Pradesh Police presented the ceremonial gun salute during the funeral, in the presence of officers of the district administration, the IRBn and the 36 Bn CRPF.
Bosai was killed by two operatives of the NSCN, who escaped from the jail in Khonsa on 26 March. NSCN-K (NS) operatives Roksen Homcha Lowang and Titpu Kitnya snatched the service rifle – an AK-47 – from Bosai and fired upon him.
Bosai, who was shot in the stomach, passed away while he was being taken to Dibrugarh in Assam.
One of the operatives, identified as Titpu Kitnya from Kharsang, was a convict in a murder case, while Roksen Homcha, a native of Borduria village, was an undertrial prisoner. (DIPRO)