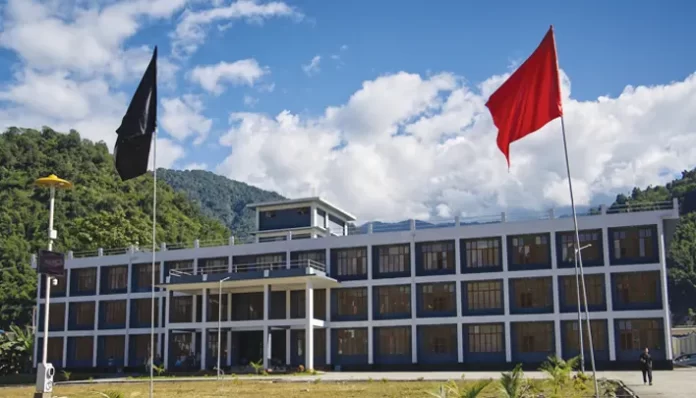 SEPPA, 20 Nov: Chief Minister Pema Khandu on Monday dedicated Blocks A and B of the state-of-the-art district secretariat here to the people of East Kameng district, in the presence of union Earth Sciences Minister Kiren Rijiju, Sports Minister Mama Natung, and MLAs Tapuk Taku, Goruk Pordung, Hayeng Mangfi and Biyuram Wahge.
Observing that a good ambience is of utmost importance to enhance performance level, Khandu said that the state government is committed to provide quality infrastructure, so that its employees, especially in the districts, can work in perfect ambience and perform better.
"The state-of-the-art district secretariat building in Seppa, equipped with modern facilities, stands as a beacon of development, progress and growth. This will further ensure ease and speed of delivery of services for the welfare of the district's citizens," he said.
Enumerating several achievements made in governance and revenue generation, he credited the government employees for their contributions.
"Without your support, commitment and sincerity, the progress we have made in the last six, seven years wouldn't have been possible. I have full faith in you that together we will take our state to newer heights," Khandu said.
He urged the government officials to not leave any stone unturned to ensure that "delivery and saturation of government schemes reach the last mile."
To facilitate immediate shifting of the district administration to the new secretariat building, Khandu handed over the sanction order to Deputy Commissioner Sachin Rana for procuring equipment and furniture. He also assured to allot the funds required to complete Blocks C and D of the secretariat.
The CM and Rijiju, along with the MLAs, later attended a BJP meeting at the general ground here and laid the foundation for the BJP's district office, to be constructed in nearby Wessang.
Khandu urged the party workers of the district to "create awareness on the various welfare schemes and projects of both the central and the state governments, so that the last person in the remotest village can know what the BJP government is doing for him."
"BJP is the only party that can boldly speak against money culture in elections. I urge you all to campaign for fair elections, based on performance and not on which candidate can pay how much in cash or kind," he said.
Terming cash-for-vote "the biggest setback for good governance," the CM said that this "illness" needs to be done away with.
"A leader who buys votes will never deliver. Let us unite in the fight against this malpractice to uphold the sanctity of democracy and thwart corruption," he said.
Earlier in the day, the CM inaugurated an approach road along with a CC drainage and protection wall from NH 229 to Dunkr Putung; strengthening & realignment of the 33 KV line from Bana to Wessang along the Trans-Arunachal Highway; Babunh MHS in Bengde; and Watta MHS in Khenewa.
He also laid the foundation stone for an outdoor sports stadium in Seppa, and for an RCC bridge over the Kameng river to connect Seppa town with New Seppa. (CM's PR Cell)