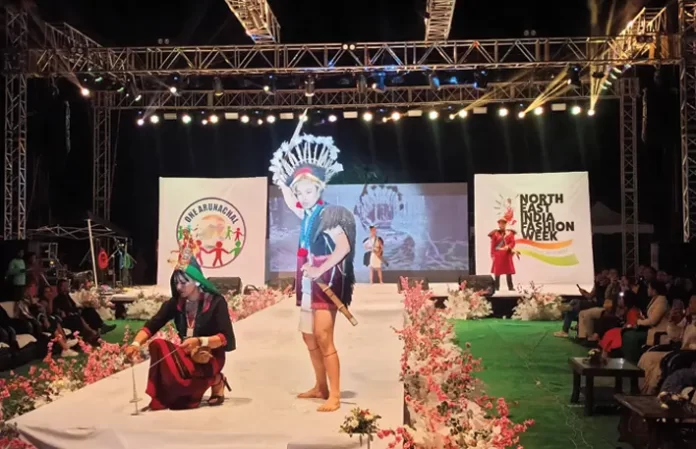 ITANAGAR, 20 Nov: The 6th edition of the North East India Fashion Week – The Artisans Movement will end with a host of top weavers and designers all set to showcase their creations at the finale on 21 November.
"The weeklong event, which began at the Koro Happa river island in Jollang on 18 November, showcased more than 30 designers and weavers from all across Northeast India," designer and CEO Yana Ngoba Chakpu informed.
The fashion extravaganza is being organised by One Arunachal, a registered NGO dedicated to raising awareness and preserving the traditional and cultural oneness of Arunachal Pradesh.
Chief Minister Pema Khandu, Speaker PD Sona, Itanagar MLA Techi Kaso, Tripura minister Bikash Debbarma, among other distinguished guests, attended the festival's inaugural ceremony on 19 November.
On 21 November, top designers, including Angie Ngoba Namchoom, Yajir Mara, Bezai Jaboju, Jibom Roley, Konyak weaver Angap, Siang Yangda Waii, Yana In Style, and Joram Nampi will present their creations.
Yana Ngoba's flagship event, the North East India Fashion Week – The Artisans Movement, aims to "systematically conduct a series of pilot studies towards improving the prospects for inclusion, empowerment, and quality of life of artisans and weavers in Northeast India," the organiser said.
The event will commemorate the movement and showcase the talents of artisans from Northeast India. More than 30 designers and weavers will participate in the 3-day fashion event.
Speaking about the event, One Arunachal chairman Joram Tat said, "Through North East India Fashion Week – The Artisans Movement, we strive to identify artisan role models, boost self-esteem within the artisan community, advocate for their skills, and offer a platform to showcase their unique talents.
"With the valuable support of our NGO, we are committed to training and promoting the weavers and designers from the region through ongoing skill development and capacity-building. This endeavour aims to enhance employability, secure better livelihood, dignify labour, and establish a brand presence with global market connections," he said.