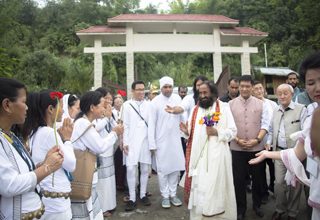 Politicians must work hard to build trust of people: Ravi Shankar
Staff Reporter
ITANAGAR, Sep 8: In an unprecedented move the state government headed by Chief Minister Pema Khandu gave outlandish welcome to spiritual Guru and founder of Art of Living (AoL), Sri Sri Ravi Shankar. CM was personally present at helipad to welcome him. Also the invitation for the main programme at IG Park was issued through the Chief Secretary, Government of Arunachal making it obvious that who is funding the visit of spiritual Guru.
Meanwhile the Arunachal Pradesh Congress Committee (APCC) took exception to the WT message directing all MLAs to attend the Sri Sri Ravi Shankar's event at Banquet Hall. Under Secretary, Legislative Assembly, Arunachal Pradesh, reportedly issued the said message to the MLAs.
"There has been gross violation of Indian Constitution under Article 168 to 177, whereby the Legislative Assembly has communicated and transmitted the directive for the attendance of MLAs who are democratically elected and who work with basic protocol of being elected representative. This message has further infringed the independent status of Legislative organ of the State as Sri Sri Ravi Shankar does not have any official or executive and legislative position which demands compulsory attendance of MLAs and Ministers," stated APCC. Further it alleged that state government has already misused large number of men and materials for the visit of various religious leaders at the cost of State exchequer in the past.
Congress has asked legislative assembly speaker to enquire into such gross misuse of the Legislative wing of the State.
Meanwhile, Ravi Shankar said that politicians have a great deal of work to do to build the trust of the people and opined that if people's trust is won, then there was no need to spend money in election.
Delivering a lecture on 'Political ethics and challenges in the context of changing times' at State Banguet hall here on Friday, Sri Sri said, "We must all follow the ethics of not doing things on others which we don't want on us". He said sense of belongingness must develop to evolve a better system of governance.
He advised that one must not be discouraged by criticism and continue to work for betterment of society, which will generate tremendous energy to work more.
The lecture session was followed by question-answer round, which was participated by legislators, public leaders and officials.
Meanwhile, the spiritual leader participating in the inter-faith cultural programme, which got underway at IG Park, Itanagar in the afternoon, appreciated the people of Arunachal for maintaining unity despite its huge diversity.
"I give credit to the people of this state for having accepted and respected the diversity. Let not diversity be a reason for discord but to celebrate and to bring excitement," he said.
He said respect for fellow human being can be cultivated through finding happiness in other's happiness.
"Arunachali indigenous culture finds much similarity with those of indigenous tribes from Canada, Mexico, New Zealand and Australia," he opined.
Sri Sri proposed to host a 'World Tribal Culture Festival' in Arunachal to reflect India's cultural intelligence and the spirit of diversity that the country is known through the ages.
He said India being repository of knowledge and culture has always been known as 'Vishwa Guru'.
Speaking on youth potential in Arunachal, Sri Sri said youths here have smart brains, good physique and are naturally gifted with talents in music and sports.
"Arunachal has withstood itself as peaceful state despite its neighbours having witnessed trouble for decades. Together with its huge potential and its ability to sustain peace, Arunachal can become a happy state", he said.
He called upon the youths to 'volunteer for better Arunachal' and urged them dedicate few hours everyday for the state. He expressed to harness the youth potential by opening technical colleges, skill development institutes in Arunachal to produce scientists, philosophers and to take their talent to the whole world.
In his speech, Chief Minister Pema Khandu introduced the AOL foundation as an organization dedicated to the upliftment of poor, youths and unemployed. He recalled his earlier visit to the AOL campus in Bengaluru where youths are given skill development training and various initiatives are also being taken for welfare of poor.
Emphasizing on strengthening of education in Arunachal, the CM said the state desires to seek help from AOL and other institutes such as VKV, RK Mission and Don Bosco institute.
He said govt schools in Arunachal are witnessing decrease in enrolment despite huge investment in manpower and infrastructures, which has been already reflected in NITI Aayog's report on country's education scenario.
He suggested that private institutes such as VKV or Don Bosco can adopt govt. schools that are failing to perform, and specifically requested the AOL to assist in this mission.
Deputy Chief Minister Chowna Mein, his cabinet colleagues, legislators and officials attended the programme.
The programme was also attended by religious heads of different religions and indigenous faith groups.