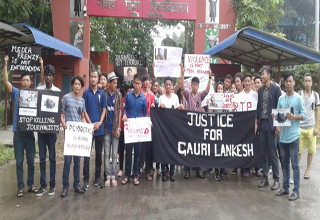 Staff Reporter
ITANAGAR, Sep 8: The Department of Mass Communication, RGU and Rajiv Gandhi University Students Union (RGUSU) jointly staged peacefull march at RGU campus on Friday afternoon against the killing of journalist cum activist Gauri Lankesh who was shot dead by unidentified assailants at her apartment in Bengaluru recently.
Sizeable number of mass communication students including MA, PGDMC and research scholars started marching from the University main gate and culminated at Auditorium. The students later observed candle light tribute to late Gauri who stood for freedom of press.
Mass Communication department Head, Prof. Kh. Khabi in his solidarity address said, "Country has lost precious voice, I hope her blood won't go in vain and the perpetrators must be booked". This trend of targeting journalist community to suppress their voice is a grave concern for everyone in a democratic country, Prof Khabi added. Prof. also described Gauri as brave journalist who stood for a cause.
Highlighting the life and contributions of Late Gauri, RGUSU President Giogi Aja urged the Mass Comm students to stand up for freedom of press and free speech.
"As Mass Comm students we should extend our solidarity to journalist community who uphold the freedom of speech and expression" RGUSU President said while condemning the brutal murder of renowned journalist. Aja also urged intellectual people to come forward to condemn such barbaric act. He said targeting journalists in the country and the state is an attempt to suppress the voice of truth and freedom.