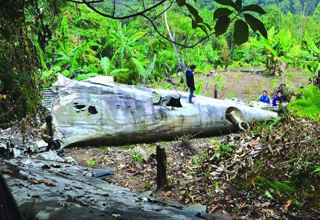 [ Tom Simai ]
CHANGLANG, Sep 8: A group of adventure aficionados led by Nature & Heritage Conservation Society President Ngongpa Zongsam of Old Changlang village will embark on an expedition soon to track down the planes wreckages of World War II era at Ranglom, some 35 Km from here.
Ranglom is known as graveyard of planes because many WW-II plane wreckages were discovered over the years here.
Unfortunately, those planes wreckages have been lost due to ignorance of the locals as they have traded the metal as scrap for earning livelihood.
"Our interest was piqued when we had certain information that the local hunters has located 3 to 4 crashed sites at some point of their hunting expedition," Zongsam shared.
Zongsam is certain of tracking at least two crashed sites situated within 10 kilometer radius of the village. "One plane is deeply buried in earth and only a small portion of the cockpit is visible and of the other, only the frame is available," he said.
Ranglom, first hogged the limelight when the finding of two cargo plane wreckage's of WW-II era was reported. The discovery generated much hype and VIPs rushed to the spot with promises that villagers only dreamt of. Once the visiting of VIPs stopped, all the promises were forgotten and the poor villagers resumed stealing the metals from the wreckage.
The anticipation of the villagers is high, they are hoping that the new discovery will open new chapter in the village history that has been forgotten by time.