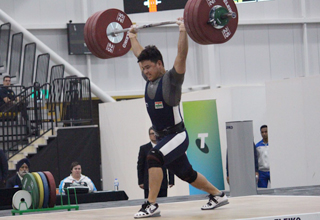 ITANAGAR, Sep 9: Kojum Taba of Arunachal Pradesh made the country proud by successfully defending his Junior Commonwealth Weightlifting Championship title in Australia on Friday.
He defended his title for the third consecutive occasion with total lift of 318 kg in the Junior Commonwealth Weightlifting Championship in Gold Cost, Melbourne.
He lifted 140 kg in Snatch and 178 kg in Clean & Jerk for a total of 318 kg to win the gold.
Kojum, however, failed to defend his senior Commonwealth Weightlifting Championship title he had won in Malayasia last year due to an injury. He won the Senior Commonwealth Weightlifting Championship title in Penong, Malayasia with a total lift of 330 kg (Snatch 146; Clean & Jerk 184).
India got another jolt when Jimjang Deru failed to continue his competition in 62 kg category after he suffered an injury during Snatch performance. He could lift only 114 Kg in Snatch.
Kojum has several national and international weightlifting titles to his credit.
He clinched his first Junior Commonwealth Weightlifting Championship title in Pune in 2015 and the second in Malaysia last year with a new record. He also won a bronze medal in Junior Asian Championship in Japan in 2016.
He is the current title holder of Senior National Weightlifting Championship.