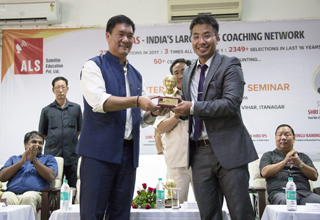 ITANAGAR, Sep 16: Chief Minister Pema Khandu has officially inaugurated the Alternative Learning System (ALS), first UPSC coaching centre in the state capital, here on Saturday.
Speaking on the occasion, Pema informed that in order to encourage UPSC aspirants, the state government has fixed financial incentives for students clearing prelims, mains and interviews.
These incentives were enhanced last year from Rs 30,000 to Rs 2 lakhs on qualifying the preliminary examinations and from Rs 50,000 to Rs 3 lakhs on qualifying mains examinations.
"In 2016-17, we disbursed the incentives to nine candidates for prelims and four candidates for mains. We have received few applications this year too," Pema informed.
The Chief Minister also announced a restructured financial incentive — "CM's Civil services financial incentive scheme", wherein the government will tie up with institutes like the ALS and other such institutes with an end to end solution. Focus will also be laid to guide and nourish candidates for UPSC conducted NDA and other allied services examinations.
Education Minister Honchun Ngandam in his address called upon the youth to grab the opportunity. Ngandam reminded the students that they are not inferior to anybody but required discipline and hard work to succeed in life.
"We as elders and leaders in the government can only show you the path, but it is up to you to walk that path. I hope to see our boys and girls crack the most prestigious exam of the country in good numbers in near future," he added,while elaborating on steps taken by the government to improve the education scenario in the state.
Joint Commissioner of Police, Robin Hibu, who's NGO Helping Hands, has been instrumental in setting the ALS centre in Itanagar and Armstrong Pame, Deputy Commissioner of Tamenglong district, Manipur and a product of ALS also spoke on the occasion, while Jojo Mathew gave a brief history and achievements of ALS.
Dignitaries present on the occasion included Parliamentary Secretaries Tesam Pongte and Laisam Simai, APCC President Takam Sanjoy and PPA Chairman Kamen Ringu.
The coaching centre, a branch of New Delhi based ALS, will use the latest satellite telecommunication technology and will be a part of ALS's centralized classroom. Students here will directly interact with trainers and teachers at Delhi.