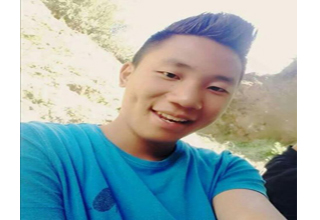 Staff Reporter
TAWANG, Sep 24: The body of missing school boy, Toko Yame was found on Sunday at around 3 PM by the Biga Bridge Waterfall, near the Jawahar Navodaya Vidyalaya (JNV) campus at Tawang.
The 16-year-old boy was a class XII Science student at Government Higher Secondary School in Tawang and remained untraceable for almost eight days after a clash broke out between students of Government Higher Secondary School Tawang and JNV on September 16 last.
Tawang Deputy Superintendent of Police, G Dajangju informed that the body was found in a semi-decomposed condition at Biga Bridge Waterfall near the JNV campus.
"We are sending the body to Itanagar, as the district hospital does not have the facilities to conduct a post mortem on a semi-decomposed body", said the DSP.
On questions regarding any foul play, the DSP said that it can be ascertained only after the post mortem report, and that the police would act based on the reports.
It is reported that the suspected accused was also granted bail on Saturday.
Further, the DSP disclosed that the location of where the body was found had already been scanned and searched several times by the search operation teams earlier.
Expressing shock at the incident, the aggrieved family suspected foul play. The family also pointed out that the place where the body was found had been searched several times both by the relatives and the district administration.
"We had searched the same location several times earlier, but we did not find it. How can the body appear at the same place all of a sudden", questioned Toko's father, Koya Yame.
"Considering the condition in which my son's body was found, it clearly appears that it was a planned murdered", said the aggrieved father.
Demanding a CBI inquiry on the entire incident so that the perpetrators could be booked, Koya claimed that there were several cut marks on the body, but since it was semi-decomposed, many other injuries marks were not clearly visible.
The aggrieved father also sought the Governor's intervention in getting justice for his son and appealed to the Police Department to carry out an unbiased investigation.
Pained by the incident, the East Kameng Social Welfare and Cultural Organisation and All East Kameng District Students Union (AEKDSU) deeply condoled the tragic incident.
In a press statement, the district parental organisation demanded that the authorities investigate the incident thoroughly so that perpetrators could be given exemplary punishment.
The AEKDSU also strongly condemned the incident and urged the Police Department to act with utmost sincerity and dedication to punish the culprits involved in the tragic incident.