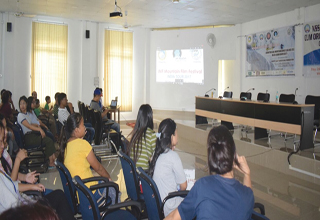 ITANAGAR, Sep 25: The Indian Mountaineering Foundation (IMF) Mountain Film Festival was inaugurated by Director Youth Affairs, D K Dinglow at the Directorate for the first time in the state on Monday.
During the festival, adventure films on land base, air base and water base and two special shows on indigenously-made documentary films on Team Arunachal Mt Everest Expedition 2011 and Mt Gorichen Expedition 2013.
This Mountain Film Festival – 2017 is expected to encourage adventure tourism in the state and also encourage the youths for taking up mountaineering and other adventure activities as a profession.
The department has already drafted Youth Policy and Mountaineering Act, which has been submitted to the government for approval.
The department intends to involve youths for their overall development by sending them for various adventure courses in different institutes across India and enable them to generat self employment opportunities.
The Director also appreciated IMF New Delhi and North East Adventure Foundation for arranging the film festival at Itanagar.
A similar screening was held by the Adventure and Mountaineering Club of Rajiv Gandhi University (RGU), in collaboration with the North East Adventure Foundation on September 24 at the AITS Auditorium, where 14 films were screened on the day.
Informing on how the Mountain Film Festival is being organized in different parts of the country, North East Adventure Foundation General Secretary Karan Kumar Sandaliya and PRO Jyoti Hazarika also spoke on various opportunities in adventure and mountaineering sector.