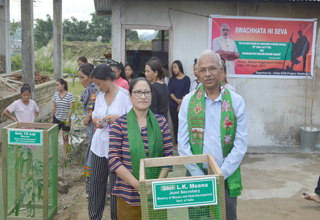 ITANAGAR, Sep 25: Joint Secretary to the GoI, Ministry of Women & Child Development, New Delhi, L K Meena, who is in Itanagar as a part of Swachhata Hi Sewa drive, inspected the Anganwadi Centre of Naharlagun Urban ICDS project, One Stop Centre, Women Helpline, Swadhar Greh and child care institutes, children's home and specialised adoption agency on Sunday last.
Cleanliness drive was also organized during the visit by Director of Women & Child Development and Social Justice & Empowerment and Tribal Affairs, Naharlagun.
At Anganwadi Centre, white washing and hand-washing as per WHO standard were carried out.
The Joint Secretary while inspecting the One Stop Centre, which was jointly implemented by the Capital Complex Deputy Commissioner and Oju Welfare Association said that the scheme intends to support women affected by violence in private and public spaces within the family, community and at the workplace and women facing physical, sexual, emotional, psychological and economic abuse are facilitated with support and redressal.
The very objective of One Stop Centre is to facilitate immediate emergency and non-emergency access to a range of services, including medical, legal, psychological and counselling support under one roof to fight against any forms of violence against women, he added.
He also visited the Women Helpline, which is also run by the Oju Welfare Association, Naharlagun under the direct control of the Deputy Commissioner of Itanagar-Capital Complex and located near Police Station, Naharlagun.
It intends to provide 24 hours immediate and emergency response to women affected by violence through referral linking with appropriate authority, such as police, One Stop Centre, hospital and give information about women related government schemes programmes across the country through a single uniform number.