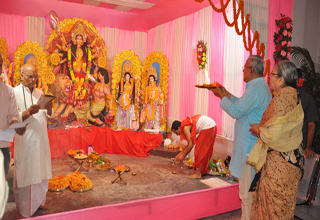 ITANAGAR, Sep 27: Governor of Arunachal Pradesh P B Acharya and his wife Kavita Acharya attended the Durga Puja celebrations at Rama Krishna Mission Hospital Complex and Shiv Mandir, P Sector, Itanagar on September 27 and offered prayers at the Durga Puja pandals.
At Shiv Mandir, P Sector, Itanagar, Kavita Acharya, who heads the Mandir Committee, led the prayers.
A large gathering of people from all walks of life, including indigenous communities joined the couple.
Meanwhile, Chief Minister Pema Khandu greeted people on the festive occasions of Durga Puja and Dussehra.
While Durga Puja marks the battle of Goddess Durga with the powerful buffalo demon Mahishasura, and her emerging victorious over the evil, Dussehra celebrates the victory of Lord Rama over the evil Ravana.
"Though the festival is celebrated with different themes in various parts of the country, it unanimously marks the victory of Good over Evil. Not only that, it also is in part a harvest festival that marks the goddess as the motherly power giving rise to all life and creation," Pema observed in a message here this evening.
"The message of the festival is quite significant for us. Let us shun evil and lead a life of peace and harmony. Crime and criminals will never escape the grip of justice. I pray Goddess Durga to bless our people with health, wealth and purity," the Chief Minister added.