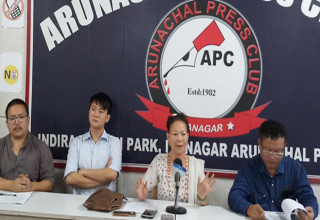 Staff Reporter
ITANAGAR, Sep 27: Maya Dolo, wife of former Deputy Chief Minister Kameng Dolo of Seijosa, has termed the claims made by various organizations against her regarding alleged illegal allocation of land to Patanjali Ayurved Ltd in Seijosa, East Kameng district, as baseless, and maintained her stand that she has not encroached upon the land of any individual in the area.
Various organizations of Seijosa, Pakke-Kessang area have lately accused Maya Dolo of illegally allocating Range Forest land to Patanjali Ayurved Ltd to develop approximately a 4,800 hectare mega herbal garden in Seijosa.
Responding to the allegations during a press conference at the Press Club here this afternoon, Maya said that the land allocated to Patanjali Ayurved Ltd in Seijosa does not fall under the Range Forest area.
"As per the notification dated 15 September, 1981, Secretary (General Administration) GoAP vide No.GA-70/80 has declared the creation of the Seijosa administration circle with its headquarter at Seijosa in East Kameng district , which includes the following villages with their traditional village boundaries within Arunachal Pradesh, viz Darlong Darlong, Lower Seijosa, Tapang, Monai, Giladhari, Upper Seijosa, Bali, A-2/3, Moboso, Dibru, Jolley, Longka, Takosonia, Namora, Diring, Dikalmukh and Baliso", she said.
"Also, in the year 1964, a notification was issued by the Government of India for settlement of Sikh regiment within the villages under Seijosa Circle which clearly indicates that Seijosa does not come under the reserve forest", she pointed out.
She further claimed that in 2004, she had applied for Land Possession Certificate and the then East Kameng Deputy Commissioner deputed four officials (Mandal) from the Department of Land, besides gaon burahs, ASMs and general public of the area for verification.
"I obtained Land Possession Certificate against my name and my family members following all due process of law in the year 2006, 2007 and 2008 respectively. The land for such huge and beneficial project is donated by me and my family to Sannidhi Dharmath Trust as subsidy of Patanjali Ayurved Ltd at Seijosa", informed Maya and termed the various organizations levelling allegations against her as anti-development and politically motivated.