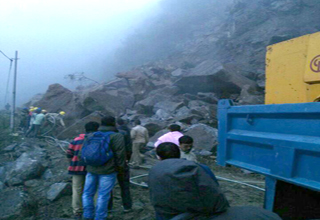 Staff Reporter
ITANAGAR, Sep 30: A massive rockslide hit at around 10.30 am near 5 Mile area on Saturday, in between the Bomdila and Dirang road, blocking all passage for commuters.
Sources at Bomdila informed that the PWD is working on clearing a path and is expected to open the road by Sunday near about 12 noon or by evening.
Officials also assured that machinery have been pressed into gear from Dirang side as well to speed up the process.
Over 100 cars were reportedly stuck on both sides of the massive rockslide, which stretched to approximately 150 meters, sources said.
While some commuters have taken shelter in Bomdila for the night, others, including a few foreign tourists are stranded on the roadside, as hotels have reportedly run out of space to accommodate such a large number of people.
A few commuters, which include government officials heading to Tawang for a Swachhata Hi Seva programme, are also stuck in Bomdila.
Owing to the situation, some local taxi drivers have also taken their passengers to their homes on foot.
Another landslide was also reported in Sange, near Sela Pass.
Meanwhile, following the rainfall, the Doimukh to Hoj-Potin road has also been snapped after a large culvert washed away on Saturday.
Many commuters were reportedly stranded and headed back.
More information is awaited.