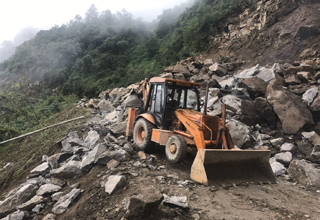 DIRANG, Oct 1: After the Bomdila to Dirang highway was blocked at several locations on September 30 due to unprecedented rains, the 42 BRTF under BRO Project Vartak pressed all its resources and worked throughout the night and opened up several blockades along the stretch of the road.
The Munna Camp rockslide was opened at around 10.30 PM on September 30 itself, while the rockslide at 5 Mile near to Bomdila was cleared at around 12 noon on October 1 last.
Chief Engineer of Project Vartak congratulated the team of 42 BRTF for their successful effort in opening the highway in a short span of time and for bringing normalcy.
The efforts of the BRO in opening up the dangerous rockslides were also widely appreciated by the public.