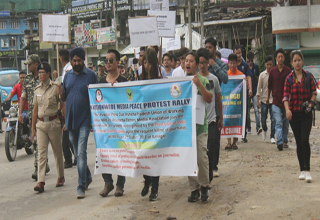 ITANAGAR, Oct 2: Journalists working in various media houses of the state on Monday joined the nationwide protest being jointly organized by the Press Council of India (PCI) and Indian Journalist Union (IJU) against the repeated killing of journalists in different parts of the country.
Demanding speedy trial of pending cases of assault/murder on journalists, enactment of law to protect them and also ensure their safety, the members of Arunachal Pradesh Union of Working Journalists (APUWJ), affiliated to IJU and Arunachal Electronic Media Association (AEMA) in collaboration with the Arunachal Press Club (APC) took out a peaceful protest rally at the township here.
The other demand of the journalists included sensitization of police personnel on the role of media.
Students of Mass Communication department, Rajiv Gandhi University (RGU) also joined the protest rally.
Journalists and students carrying placards and banners walked all the way from Aakashdeep to the Press Club here where the rally culminated.
Addressing the gathering, APUWJ President Amar Sangno condemned the recent incidents of scribes being murdered across the country. He opined that the Government of India should come up with a policy to ensure security to the journalists.
"This is not the first time that reports of scribes being killed and assaulted have surfaced from various fronts. Our state as well as the union government should come up with a strong policy/law and make sure that the fourth pillar of democracy is protected at all times," said Sangno.
Senior journalist Taba Ajum in his address highlighted about the right-wing extremism in the country and termed it as a big threat to the freedom of press and also to independent journalism.
"The attacks on journalists is a worrying trend and unacceptable in a democracy like ours. It is high time that the first three pillars of democracy save the fourth one," said Ajum.
Rajiv Gandhi University Students Union President Giogi Aja in his address also expressed concern over growing trend of attack on press personnel.
"As mass communication students, we wish to join the field of media in years to come. Therefore, safety and security of media personnel definitely concerns us," said Aja.
Later, a five-member team of the state's media fraternity met Governor P B Acharya at the Raj Bhawan and submitted a memorandum in regards to the aforementioned demands.
Acknowledging the memorandum, the governor assured to place the demands and grievances of the scribes in front of the state government for its consideration.
A similar peace protest rally was held by the scribes at Pasighat Township.
The Committee to Protect Journalists in its report claimed that at least 41 journalists were killed since 1992 in India, whose motives were confirmed. Out of the 41 journalists, 28 were killed in direct retaliation to their works and the other 27 were eliminated without unconfirmed motives. In all, seven journalists alone have become the victims this year with the recent one being Shantanu Bhowmik of Tripura.