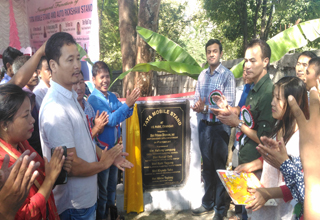 DA to regulate traffic for NH construction: Dhawan
Staff Reporter
ITANAGAR, Oct 6: In an effort to ease traffic congestion, Capital Complex district administration has designated two parking places- Bank Tinali and IG Park main gate.
While inaugurating the parking places, Deputy Commissioner Prince Dhawan said that the district administration is coming up with a formula to regulate the traffic, including diversions which would be implemented from October 15 next.
He warned that there would be some amount of traffic inconveniences during the construction period as the four lane National Highway constructions have already began.
Dhawan further appealed to the owners to update their vehicle documents while noting that many vehicles in capital do not have updated documents.
He added that private vehicles being used on commercial basis need to use number plates meant for commercial vehicles within a month failing which transport department may impound such vehicles.
IMC Chief Municipal Executive Officer (CMEO) Habung Lampung in his address said that the designated parking lots need to be maintained.
DTO Capital Remar Gab also said that many vehicles owners have not updated their documents which is liable for penalty.
Representatives from various commercial vehicle associations were present on the occasion.