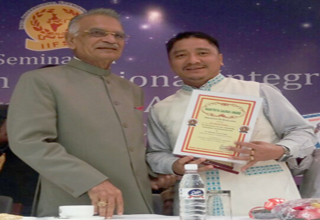 ITANAGAR, Oct 6: Joint Registrar of Rajiv Gandhi University (RGU) Dr. David Pertin has been conferred with the Rashtriya Gaurav Award by the India International Friendship Society, New Delhi for his commendable achievements in his chosen fields and services rendered to the society as an academic administrator and social activist.
The award comprising a trophy and a citation was presented to him by former Lok Sabha Speaker and Home Minister Dr. Shivraj Vishwanath Patil in presence of former Governor of Assam and Tamil Nadu Dr. Bhisma Narayan Singh during a seminar in New Delhi on October 4.
He received the award along with 34 other awardees chosen from various fields from across the country.