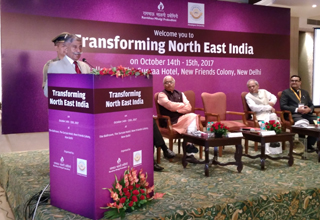 National convention should reflect in field action: Governor
ITANAGAR, Oct 14: The Governor of Arunachal Pradesh B.D. Mishra has inaugurated 'Transforming North East India' National Convention at New Delhi on Sunday.
In his inaugural address, the Governor emphasised that innovative and sustainable ideas discussed and evolved in the convention should come out of the room and be reflected in action in the fields.
The Governor said as a responsible citizen, it is our bounded duty to ensure that benefits reaches to the targeted population, projects are implemented in letter and spirit and within the time frame.
In our strive towards overall development of North East, we must ensure that the desired socio-economic benefits reach to the last targeted beneficiary in the queue without delay.
He added that the talented human resources of North East needs to be tapped and be put in use for a right purpose.
Cautioning the people against 'gun culture' in the region, the Governor called on the people to guide, advise, educate and motivate the youth to shun violence and participate in the State, Regional and National development projects.
Chairman, Indian Council of Social Science Research (ICSSR), Dr Braj Bihari Kumar stressed that there is a communication gap between the people of the region and rest of the country and inadequate development in the north eastern region due to various factors including colonial policies of the past, lack of identification of works on NE history by the Indian scholars and inadequate representation of North Eastern history in history of India. He also pointed out at the failure of administration and the accountable and responsible persons, who did not carry out their duties in proper way to ensure that benefits of welfare schemes percolate down to the common people. It is due to default of those responsible persons and officials, the region is yet to develop at par with other parts of the country, he further said.
The ICSSR Chairman called upon the scholars, intellectuals and concerned minded people to take up the challenge to address these issues.
Member of Parliament, Rajya Sabha, Dr Vinay Sahasrabuddhe said that there is need for change in mindset of the people towards their fellow citizens of north eastern region and more interactions between them. Lack of knowledge about their rich culture and traditions has been the stumbling block. He also stressed on equitable development in human, financial and knowledge resources. Justifying the organising of the convention in the National Capital, Dr Sahasrabuddhe said that key to transforming north east lies in New Delhi.
Chairman, Himalayan University, Itanagar Hemant Goel also spoke.
Rambhau Mhalgi Prabodhini, Mumbai and Himalayan University, Itanagar is conducting the National Convention. Participants from 18 states, including delegates from Arunachal Pradesh are participating in the convention.