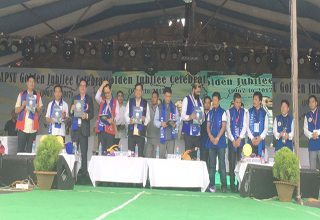 AAPSU golden jubilee celebration starts
Staff Reporter
ITANAGAR, Oct 15: The golden jubilee celebration of All Arunachal Pradesh Students' Union has started amidst colourful cultural display of different tribes from across the state at IG Park, Itanagar.
Declaring the five days celebration open, the Assam Chief Minister Sarbananda Sonowal said that students organisations like AAPSU and North East Students' Organisation(NESO) have greater role to play to make the region developed and advanced.
Sonowal called for greater cooperation among the northeast states to make greater North-east region.
Quoting Prime Minister Narendra Modi, Sonowal said that North east can be an engine of development for India as he called upon students organisations and people of Arunachal Pradesh to be dedicated and determined to realize the dream of development.
However, Assam Chief Minister did not touch upon Chakma-Hajong refugees and illegal immigration issue during his discourse.
Earlier, Sonowal along with CM Pema Khandu and MoS Kiren Rijiju released AAPSU's Golden Jubilee Celebration Souvenirs, containing the history of the apex students organisation.
Congratulating AAPSU for its glorious fifty years of journey, Chief Minister Pema Khandu, asserted that his government is committed to work for rights of indigenous people.
" Once resolution is taken on Chakma-Hajong and Tibetan refugees in the Legislative Assembly, we would let people know about my government's stand on refugees issue" he said. However, the CM said, he needs cooperation from the people of Arunachal specially from the AAPSU. Stressing on objectives of AAPSU formation, the Chief Minister said that on several occasions, the organisation diverted from its main mission causing criticisms among the people.
Chief Minister also called for end of money culture in students politics, disclosing that few members had sought his help during AAPSU election which he turned down.
"Involvement of money in AAPSU election should be ended and discouraged. Such practices are the root cause of corruption" CM added. He asked AAPSU to be torch bearers of Pan-Arunachal Identity and promote communal harmony.
On hydro-power issue, Khandu said, "we need development but not at cost of the indigenous people".
Union Minister of State for Home Kiren Rijiju called for promotion of harmony amongst youths while discouraging abusive and communal language.
Calling AAPSU as the leader in promotion of communal harmony, MoS Home asked AAPSU to check its federal units from inciting communal hatred on social media.
Condemning some section of people and organisations for spreading fake news, Rijiju clarified that Union Govt has not decided to make Chakmas-Hajongs as Arunachalee citizens but will respond appropriately to Supreme Court order soon. He further called for United Arunachal to fight against external forces including Chakma-Hajong refugees.
Rijiju also appealed to the representatives of various North East states to resolve inter-state boundary problems stating that discrimination would weaken the region.
AAPSU President Hawa Bagang in his presidential address acknowledged the contribution of former AAPSU leaders in shaping the state. Bagang said that accomplishment of current AAPSU was possible only because of dedication of its former leaders who suffered untold miseries and suffering.
Bagang further assured that territorial integrity of Arunachal Pradesh would be protected at any cost and no power can force AAPSU to accommodate refugees by infringing on the constitutional rights.
AAPSU President said that Chakma Hajong, Tibetan and Bangladeshi is a paramount threat to the state.
" My team shall leave no stone unturned to oppose anything which affects the interest and healthy growth of our people and the state" Bagang added.
Earlier, NESO Advisor Samujal Bhattachara said that NESO would not allow Northeast as grazing ground for refugees and illegal migrants.
He extended all possible help to AAPSU on its fight against Chakma-Hajong and Tibetan Refugees issue.
Various students organisations from North east are taking part in the golden jubilee celebration.