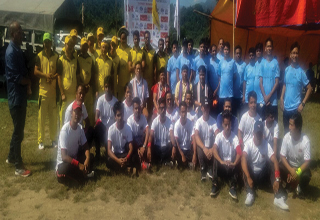 BSNL win opening match by 7 wickets
ITANAGAR, Oct 20: The Director of Sports Tadar Appa on Thursday declared the first Arunachal Pradesh Central Government Inter-departmental Cricket Tournament open at Sangey Lhaden Sports Academy ground here.
Speaking on the occasion, Appa said that government employees in their day to day busy life cannot make out time for any sporting activities which at last affects the physical being of the person. He said sports is a way by which one can relax their mind and body and stay fit which as a whole improve the creative activities of a person.
Further, while appreciating the organizer of the tournament he hoped that such activities are also taken up among the state government departments.
K Morang, Director (Engg.) DDK, K Karsandi, Superintendent India Post, Arunachal Pradesh and Arun Siram, Additional General Manager, BSNL, Arunachal Pradesh, were also present on the occasion.
Three teams, Doordarshan Kendra Itanagar, India Post and BSNL are participating in the tournament.
In the inaugural match between BSNL and Doordarshan Kendra, BSNL won the match by 7 wickets. Raju from BSNL was awarded the man of the match for his all-round performance of 4 wickets and 15 runs.
Organizing Secretary of the tournament, Kabit Taki informed that tournament is being organized for the first time in Itanagar and will see participation of many other central government departments in the coming years.