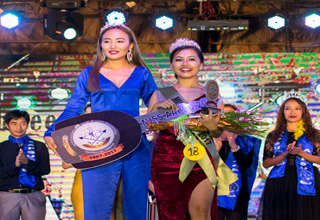 ITANAGAR, Oct 20: Menuka Pulu representing Dibang Valley won the Miss AAPSU 2017 beauty pageant at IG Park here.
She was crowned by former Miss AAPSU Chum Darang.
The winner walked away with a new Hyundai Eon car along with the coveted crown. She gets a direct entry to Miss Arunachal 2017 beauty contest.
Tinu lusi and Oyi Jamoh representing Anjaw and East Siang respectively were crowned first and second runners up respectively.
The beauty pageant was organized as part of the AAPSU Golden Jubilee celebrations.
The panel of judges comprised of winner of Mrs India World India Duyu Meena Mudang, General Secretary of Arunachal Electronic Media Association Sapna Tayem Taku, fashion designers Subi Taba, Nana Gona and former AAPSU general secretary Tujum Poyom.
Licha Thosum, who represented Arunachal Pradesh for the first time in Miss India contest attended the gala event.