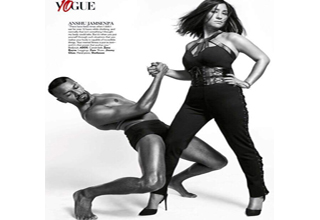 MUMBAI/ITANAGAR, Oct 21: Ace mountaineer Anshu Jamsenpa has become the first person from Arunachal Pradesh to be featured in Vogue – Women of the Year Special Edition.
The international fashion and life style magazine has featured Anshu Jamsenpa alongside Lisa Ray, Usha Soman and Deepika Mehta as India's women body warriors who have galvanized everyone into action.
Fashion giants – Zara, Outhouse, Jimmy Choo, ASOS and Zana Bayne worked on Anshu's custom designed dress for the special shoot. She was photographed by Bollywood's acclaimed photographer Tarun Vishwa and styled by Priyanka Kabadia. The shoot was based on the theme – Indian women are true fighters and a body warrior who knows how to keep fit despite challenges.
Vogue India's Sneha Malkani said that the world record holder Anshu Jamsenpa is a big inspiration who has blazed the trail for the rest to follow. She further added that Anshu is a path breaker and an influencer who've stayed strong, overcome obstacles and continue motivating women across the world with her passion, discipline and drive.
Other iconic personalities in its 10th Anniversary Special include Indian business woman Nita Ambani, Astronaut Kalpana Chawla, Banker Arundhati Bhattacharjee, actress Aishwarya Bachhan Rai, tennis player Sania Mirza, Olympian PV Sindu and several others from Bollywood and fashion world.