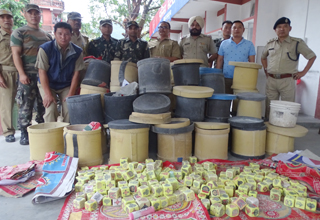 NAHARLAGUN, Oct 21: Capital Complex Superintendent of Police, Sagar Singh Kalsi has urged people to desist from gambling and warned that all such activities would invite stringent punishment as per sections of the law.
City SP, Kalsi informed that the Capital Complex unit police is still alert and raids will be carried out until it is totally stopped in the entire Capital Complex. He informed that the Capital Police has seized huge quantity of gambling materials from the township.
Further, informing that all action were taken on suo-moto and no public cooperation was extended, he appealed to all to extend support so that gambling is eliminated once and for all as it damaged the hard-earned cash of families and many have been suffering from it.
The seizure was made following the order of District Magistrate, Prince Dhawan vide order LAW/LEGN-3/2010, dated 30/05/2012 and Capital DC Executive Order under 144 Cr Pc, No. DC/ICC/JUD-20/2017.
Naharlagun PS OC, Nikom Riba has further informed that the police has registered four cases at Naharlagun Police Station and arrested six people, besides seizing huge quantity of gambling materials from various locations of Naharlagun Township on October 18, 19 and 20 last.