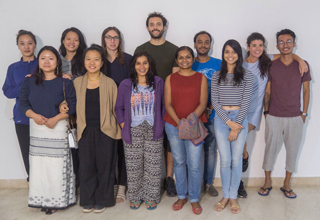 ITANAGAR, Oct 23: In a first, nine celebrated bloggers, YouTubers and social media influencers from across the globe and country would on Tuesday embark on a 21-day tour of Arunachal Pradesh to rebrand the state as the new tourism hub of India.
A distinctive initiative of the Arunachal Pioneer Public Relations & Advertising Agency and Department of Tourism, Government of Arunachal Pradesh, the first edition of the press tour titled "The Arunachal Odyssey" would see the team start their expedition from the capital, after which they would head towards Tawang to attend the coveted 'Tawang Festival', which kicks off from October 26 next.
The Arunachal Odyssey would travel through almost all the major tourism circuits of the western and middle parts of the state like that of Seppa, Sagalee, Ziro, Basar, Pasighat before completing its journey at Namsai on October 13 next.
Arunachal Pioneer PR & Advertising Agency Co-Owner, Chopa Cheda thanked the state government and the Tourism Department in particular for its support, and affirmed that The Arunachal Odyssey would go a long way in promoting the tourism latent of the state.
"Our state has so much to offer to the world in terms of tourism as there are many places in Arunachal which still remains unexposed to the outer world. I am positive that this campaign will do justice in showcaing the same," Cheda said.
"The concept of inviting influential online travel writers and YouTubers to promote Arunachal Tourism is a first of its kind in the North East," said Managing Director of Arunachal Pioneer PR & Advertising Agency, Irani Sonowal.
The Arunachal Odyssey line-up includes the likes of Alejandro Chacon (Texas), Ariel Sophia Bardi (Washington), Chloe Sterk (Amsterdam), Ritesh Uttamchandani (Mumbai), Neelima Vallangi (Hyderbad), Zahra Amiruddin (Mumbai), Deepti Asthana (Mumbai), Shubham Mansingka (Jaipur), Millo Ankha (Arunachal Pradesh) and video documentary member Pratidhani Tamang (Bangalore).
With millions of their followers all set to experience their tour, The Arunachal Odyssey team would traverse hills, river banks, rough terrains and unexplored tourist circuits of the state as part of the promotional campaign of Arunachal Tourism. They would also experience life in villages and townships of state during their tour.