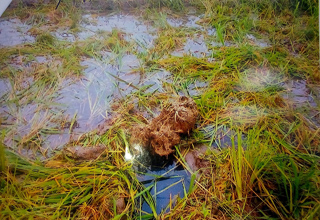 Correspondent
RUKSIN, Oct 23: A herd of wild elephants, which is creating havoc at rural areas of Ruksin circle in East Siang district for last few weeks, has damaged several acres of standing paddy crop resulting in heavy losses to the poor farmers.
The tuskers, which reportedly came from nearby Poba Reserve Forest (RF) in search of food, have destroyed pre-harvest paddy and fruit plants at Linka and Mangnang villages of Ruksin, besides Leku-Jolom village of neighbouring Assam.
According to reports, about 20 acres of standing crops were damaged by the herd in the last two months. Villagers alleged that even after they reported about the destruction caused by the elephants, the Forest Department officials have not yet taken effective measure to drive away the herd from the area.
As per forest officials here, a herd of elephants came from Dibru Saikhuwa National Park across the Brahmaputra River through lower (Assam) portion of Poba RF as there is an elephant corridor linking the national park, Daying Ering Wildlife Sanctuary and reserve forests falling under Pasighat Forest Division.
'The man-elephant conflict is ever increasing due to gradual destruction of elephant habitat and food crisis in the natural forests', said forest officials.
The villagers, who reported their crop damages at Ruksin Forest Range, are demanding the authority to pay compensation against the damaged crops after proper verification.
Local villagers of Ruksin have been demanding forest authority for EB shock-wire fencing (battery operated) at fringe villages at Poba RF to ensure protection of lives and properties from the wild elephants, but nothing has been done so far in this regard.