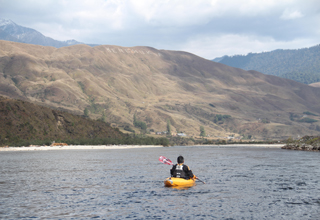 NAHARLAGUN, Oct 23: Into its 5th edition, the annual adventure sports gala Adventure@Mechukha that is held amidst the scenic splendour of Mechukha returns in a grander scale this year.
Festival Chair Pasang Dorjee Sona, who is also the Parliamentary Secretary (Tourism) informs- "This year we are making the festival bigger and better, with many value add-on events. The idea is to promote Mechukha as a premium adventure tourism destination. But along with the adventure activities on offer, we try and ensure that the tourists also have access to a comfortable and exciting stay".
This year will see various special events that have been included into the Festival: the International Paragliding Accuracy Open Competition, the Mechukha Downhill Mountain Bike Championship, a cycling tour from Aalo to Mechukha, a Riders' Meet cutting across brands and makes of motorcycles and the Indo-Bhutan Friendship Car Rally that will drive the distance from Thimphu to Mechukha and back.
These will be in addition to the lead events that the festival offers each year under its 'Air', 'Water', 'Earth' and 'Fire' categories. These events are targeted at tourists and locals alike and have an exciting line up with tandem paragliding, quadbiking, trap shooting, rafting and kayaking, zorbing, treks and other activities.
Informing this, Tourism Secretary Dr Joram Beda said that this year onwards the festival would be held on the 23, 24 and 25 of November instead of the earlier dates of November 7, 8, 9. It is expected that a larger number of tourists will attend the festival, as it has now been spaced out in relation to other festivals being organised. He expressed that, "This will also ensure a greater participation in the special events and we hope to fill the skies of Mechukha with para gliders, and the hills with riders and other adventure lovers."
It is estimated that about 50 paragliding pilots and an equal number of downhill racers, motorcycle and bicycle riders and rally drivers will attend the event.
The festival, which offers an eclectic blend of adventure sports, music, traditional cuisine, culture and fashion, this year, will feature India's premiere rock band Parikrama, who return to Arunachal after seven years.
Also performing at the festival are Indian Idol star Khudabaksh, The Fifth Dimension (a band of musicians from the UK and India), Pulse Pundits (who are India's top tribute band to AC/DC), Arunachal's own Soul of Phoenix, Jeli Kaye and the Siang Stars, along with traditional folk performances by the tribes that live in and around the valley.
The event will also showcase attire and accessory collections of Nabam Aka under her label Aka Creations, Apoong Bagang of the label Pretty Woman and Amung Tadu Lollen of AMG Accessories. The showstopper for the apparel event will be Miss India Arunachal Pradesh2017 Licha Thosum in her specially designed traditional attire, which won the best national costume at the fbb Colors Miss India Contest 2017.