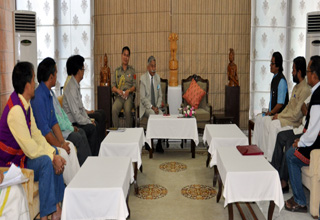 ITANAGAR, Oct 27: Governor Dr B.D. Mishra assured to take up the issue of establishment Sainik School with concerned authorities and expedite the process.
He said this while sharing his view in strengthening the education sector of the State with a delegation of Rashtriya Swayam-sevak Sangh (RSS), Seva Bharati, Arunachal Vikas Parishad (AVP), Arunachal Siksha Vikas Samiti (ASVS) and Indigenous Faith & Cultural Society of Arunachal Pradesh (IFCSAP) who called on the at Raj Bhavan, Itanagar on Friday. The members of the delegation apprised the Governor on education, healthcare and cleanliness issues in the State.The Governor advised the members from various non-governmental organis-ations to actively participate in the Swachh Bharat Mission and free the State from open defecation. He also emphasized on cleanliness drive at all places voluntarily to realize the goal of 'Swachh Arunachal' and then 'Swachh Bharat- Clean India'.
In accord with the concern of the delegation on healthcare facilities in the state, the Governor pointed out that Arunachal must have AIIMS like medical institute and assured of his best efforts to have such facility at the earliest.