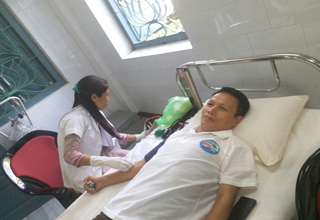 ITANAGAR, Oct 28: Twenty units of blood were collected during a voluntary blood donation camp organised by the VKV Alumni Association and Arunachal Vivekananda Yuva Shakti at Rama Krishna Mission Hospital here on Saturday.
The programme was organized as part of celebration of 40 years of Vivekananda Kendra Vidyalayas in Arunachal Pradesh.
The camp was attended by VKV alumni members, including the General Secretary of the association Pelbang Tayeng, students from RGU, DNG College, Donyi Polo Vidya Bhawan School, PCA Institution and VKV schools.
Chairman of VKV Alumni Association Advocate Pritam Taffo highlighted the importance of blood donation and called upon all to donate blood voluntarily and help each other in times of need.
The camp was inaugurated by Swami Vishveshwananda Maharaj, Secretary of Rama Krishna Mission Hospital.
The Arunachal Pradesh wing of Sadguru Sadafaldeo Vihangam Yoga Sansthan also organized a blood donation camp at Kholi Mela Ground Sector A, Naharlagun on October 28, the birthday of Sant Pravar Shri Vigyandeo Ji Maharaj, wherein 100 units of blood were collected.