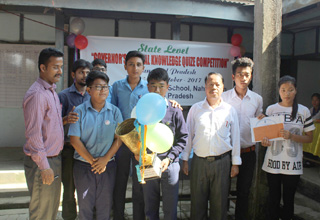 NAHARLAGUN, Oct 28: Ngawang Gyaltsen and Pankaj Tiwari of Vivekananda Kendra Vidyalaya, PTC, Banderdewa, representing Papum Pare district have won the State Level Governor's General Knowledge Quiz Competition conducted here at Government Higher Secondary School, Kankar Nallah on Saturday.
Dhani Natung and Ana Techi of Government Higher Secondary School, Seppa, representing East Kameng district bagged the second prize, while Vivekananda Kendra Vidyalaya, Itanagar representing Capital Complex secured the third spot.
Altogether, there were six rounds in the General Knowledge Quiz Competition wherein 11 schools from different districts -VKV Jairampur (Changlang), GHSS Dirang (West Kameng), VKV Roing (Lower Dibang Valley), VKV PTC Banderdewa (Papum pare), GHSS Khonsa (Tirap), GHSS Seppa (East Kameng), GSS Yangte (Kra Daadi), VKV Kuporijo (Upper Subansiri), VKV Itanagar (Capital Complex), NM GHSS Aalo (West Siang) and GSS Tellungliang (Lohit) participated.
Speaking on the occasion, Principal of Government Higher Secondary School of Kankar Nallah, G Kato highlighted the importance of such competitions in the competitive world and suggested students to study hard and be prepared for all kinds of competitions.
Taking the opportunity, he informed that the school is running without proper auditorium, owing to which the school authority faces problems while organizing such large events.