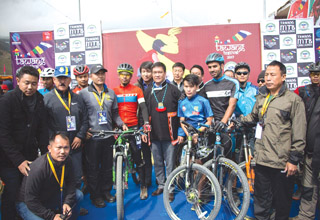 ITANAGAR, Oct 28: Devender Kumar of Himachal Pradesh emerged as the champion of the Tawang MTB Challenge 2017, while Yogesh Kumar of Haryana and Arunachal's Ahondo Menjo bagged the second and third spot in the final stage of the event on Saturday.
Earlier in the morning, the final 40 km leg of the race was flagged off from Jang by Circle Officer Pema Dorjee.
The competition was flagged in by Chief Minister Pema Khandu at the festival ground in presence of local MLA Jambey Tashi, district administration, festival committee and huge gathering of public.
Devender Kumar, Yogesh Kumar and Mahinder Singh finished first, second and third respectively in final day of the competition. However, after compilation of the six days scoring of an individual, the technical committee declared Devender Kumar as the champion of MTB Tawang Cycling competition 2017, who walked away with a cash award of Rs 50,000.
Yogesh Kumar received Rs 35,000 for coming in second place and Ahondo Menjo won Rs 20,000 for finishing third.
Six other participants received consolation prizes of Rs 5000 each.
The Department of Youth Affairs has extended gratitude to all the administrative officers of different places under West Kameng and Tawang districts for their logistic support and cooperation, besides appreciating the technical support by the Indian cycling Federation, Manipur Cycling Association and Arunachal Cycling Association and all the participants.
This six day event was conducted not only to promote mountain biking in the state, but with an objective to generate mass awareness to stay fit, healthy and strong.