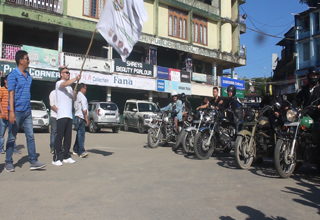 Staff Reporter
ITANAGAR, Oct 29: As part of the 9th North East Riders Meet-2017 (NERM), members of the Arunachal Bullet Club (ABC) took out a rally from Akashdeep in Itanagar to Nirjuli on Sunday to set the pace for the NERM scheduled for November, and spread the message of Swachh Bharat Abhiyan along the way.
Flagging off the rally, PHE & WS Chief Engineer Toko Jyoti said that the Arunachal Bullet Club and its affiliated clubs have tied up with the department to ensure that the message of cleanliness is spread throughout the state with the theme "I Keep Arunachal Clean".
He also informed that the state is all set to achieve the target of Open Defecation Free by this year, but the mission will continue till 2019.
Around 30 bullet riders joined in on the rally to spread the message of cleanliness.
The Arunachal Bullet Club will play host to riders from around the country and the world during its three-day North East Riders Meet at Rengging from November 10 to 12, where the message of a 'Swachh Bharat' will also be advocated for.