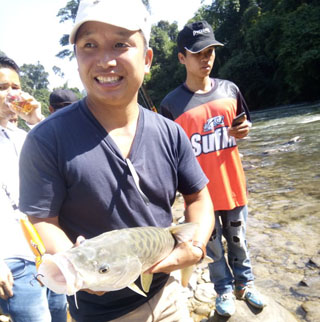 ITANAGAR, Oct 29: The catch a Golden Masheer weighing 6.90 kg won Richard Marran, an angler from Shillong, Meghalaya the first prize in the River Angling Tournament organized for the first time in the state at Mepsoro, Kheel under Toru circle of Papum Pare district.
The second prize was won by Takom Darang from Kebang Village for a catch of 6.86 kg and third prize was won by Lokam Anand (3.56 kg)
The first, second and third prize winners were awarded Rs 50,000, Rs 30,000 and Rs 15,000 respectively.
More than 50 anglers from Sikkim, Assam, Shillong, Kolkata and Arunachal Pradesh participated with great enthusiasm and excitement in the angling competition, which was organized by the Tribal Adventure Tours on October 28, with support from local villagers, Panchayat leaders and gaon burahs.
They were thrilled to catch the Golden Masheer which is the main sport fish in the world. The Golden Masheer weighing from 600gms to 6.90 kgs were caught by many anglers and then released.
The local populace turned up in large numbers to witness and enjoyed the angling game.
In the evening, the prizes for the tournament winners were handed over by Techi Tagi Tara, Chairman Arunachal Pradesh Pollution Control Board.
While giving away the prizes, Tagi appreciated the initiative of organizer John Panye, President of APTOA and MD of Tribal Adventure Tours. He exhorted the villagers, especially the youths to come forward to support and cooperate in such innovative ideas for promotion and development of tourism potentials.
He also stressed on keeping the rivers clean and pure and immediate ban on construction of toilets and piggeries in the river banks. He urged the district administration to take necessary action against such constructions.
Before commencement of the tournament in the morning, DFDO (Yupia) Dayum Davi released 5000 fish fingerlings in the river, along with Toru CO, public, Panchayat leaders and the anglers.
John Panye, MD Tribal Adventure Tours as well as the President APTOA highlighted the main motive of organising angling tournament in an organized way for the promotion of angling tourism in the state. Many anglers from different parts of the country as well as abroad are interested to come to Arunachal to do angling in various rivers, he informed.
"The local people need to give good hospitality to the visiting tourists and ensure their safety in angling spots. Once this angling tourism is popularized the local populace, especially the youths will benefit from it.
"As golden Masheer is endangered species everyone should strongly conserve this sport fish," he said and promised to organize such events in a larger and well organized way in the future with the support of the fishery and tourism departments, along with other stakeholders.