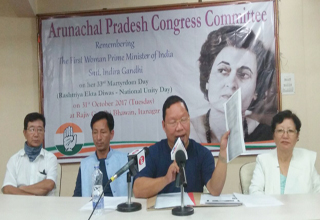 Staff Reporter
ITANAGAR, Oct 31: The Arunachal Pradesh Congress Committee (APCC) wrote to the Prime Minister's Office, demanding immediate investigation into the misuse of government machineries by Minister of State for Home Affairs, Kiren Rijiju.
Addressing reporters at the Congress Bhavan on Tuesday, APCC President Takam Sanjoy said that the party has sought investigation against the MoS for misusing government machineries, particularly chartering of the Indian Air Force helicopters for mostly BJP rallies and meetings, instead of government events.
The APCC also cited the BJP Maha Rally at Tali circle in Kra Daadi district on October 30, which was attended by MoS Kiren Rijiju and Chief Minister Pema Khandu, and said that Rijiju is supposed to use the Indian Air Force helicopters only for official government programmes, but he has negated the Government of India guidelines and norms and charted numerous such facilities in the name of "official purpose", particularly in party rallies.
He said that the MoS could easily charter other helicopter services, such as Pawan Hans or Skyone for party-related events, but chooses to misuse government services.
"This is absolutely against your slogan of 'corruption-free government' in the country. Such falsified activity of the MoS Home and state Chief Minister has negated your government policy of 'Achhe Din'", the APCC letter read.