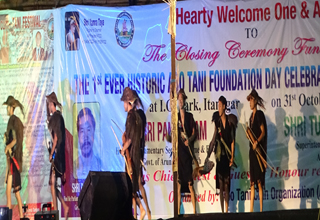 ITANAGAR, Nov 2: The seven days Abo–Tani festival organized by Abo Tani Clan Organization (ATCO) concluded on Tuesday evening amidst glittering cultural extravaganza here at IG Park.
Addressing a huge gathering on the occasion, Parliamentary Secretary for Home and Education Pani Taram said there should not be any discrimination among citizen based on tribe, religion or ethnicity. Taram emphasized that everyone should work together towards creating pan Arunachal identity so that development of state is not hampered and citizens peacefully coexist.
Appreciating the move of ATCO for unification of Abo-Tani clans like Nyishi, Apatani, Galo, Tagin, Adi etc, he said such effort should be continued in future too. The parliamentary secretary home appreciated the contribution of Tani clan members in shaping the state of Arunachal Pradesh.
He also appealed to the people to preserve age old cultural heritage and traditional values of tribal community of the state.
Superintendent of Police Papum Pare Tumme Amo in his address said members of Abo-Tani clan should make effort to create one common language for the community. Referring to celebration of different festivals, he observed that a single festival may be celebrated with single language.
ATCO President Yamra Taya briefed on the activities of ATCO and motto, aim and objective as well as formation of the organisation while Chief Advisor Taba Taku submitted the memorandum.
Several cultural performances were presented on the occasion by the delegates from 13 district including capital complex. More than 300 delegates took part in cultural and sporting events .