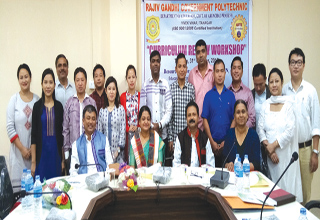 ITANAGAR, Nov 1: Deputy Director (Tech)-cum-COE (APSCTE), Sanjay Bengia urged the teaching fraternity to be proactive and prompt in implementing the revised curriculum in true sense to benefit the student community.
He was addressing a day-long workshop on 'Curriculum Review' which was held at the Conference Hall of Rajiv Gandhi Govt. Polytechnic under AICTE-NEQIP scheme here on Tuesday.
Sanjay said that it is the moral responsibility of the APSCTE to materialize the initiative. Briefing about the history of implementation of curriculum in diploma technical education in the state which began in 2002, he mentioned that the present curriculum being implemented from the academic year 2013-14 will complete two cycles in the year 2019. Accordingly, APSCTE will revise the present curriculum based on feedback collected from all the stake holders including teaching fraternity, final year/pre-final year and former students and industrial partners. He said that APSCTE will soon start online test assessment.
RGGP Principal, Dr. Ashok Kumar Tripathy said that curriculum review is a continuous process as per AICTE, New Delhi to keep up with technological advancements and changing work profile to meet the job market demand.
He also stressed for establishment of a strong Industry-Institute Committee to focus on entrepreneurial opportunities and industrial requirements.
Further informing that Rajiv Gandhi Govt. Polytechnic, Itanagar is the only diploma technical institution in the state to apply for accreditation of four engineering disciplines (AUE, CSE, CE and EEE) by National Board of Accreditation (NBA), he appealed the state government to make provision for sufficient funds to meet the expenditure related to accreditation beyond the NEQIP project period.
Resource person, Education and Management, National Institute of Technical Teachers Training and Research (NITTTR), Kolkata, Faculty, Dr. Habiba Hussain spoke on the outcome based curriculum development in line with NBA requirements that follows Washington Accord. Stressing on the need to use variety of assessment tools as emphasized by AICTE, New Delhi, she suggested maintaining record of all the activities and incremental improvements to achieve the objective of NBA.