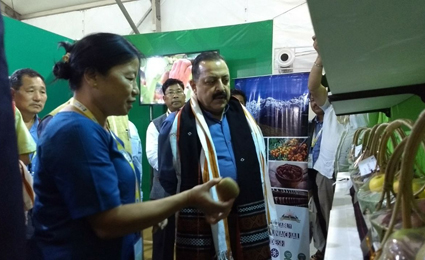 NEW DELHI, Nov 4: The second day of World Food India at New Delhi proved highly productive for the state's team there, with Minister of State for DoNER, Dr Jitendra Singh visiting the Arunachal arena, and speaking highly of the kiwi fruit from the state.
During a guided tour of the exhibits, the Minister also appreciated the large varieties of apples that were grown in Arunachal.
Highly impressed by the kiwi wine, Chairman of Agriculture and Processed Food Products Export Development Authority (APEDA, GoI), D K Singh arranged for it to be put on display in APEDA's exhibition space as well.
The day also witnessed a lot of potential business being discussed, with Wal-Mart India keen on procurement of kiwi. The Advisor to Chairman of SpiceJet Manjiv Singh explored the possibility of the export of the highly valued Arunachal kiwi.
Munindra Kumar, Advisor NE Region, Bhutan and Myanmar for ASSOCHAM, said that it was keen on contract farming of kiwi and on exporting the newly launched organic kiwi wine from the state.
Secretary DONER, Naveen Verma also visited the exhibition, as did Arunachal Parliamentary Secretary, Tatung Jamoh.
There was an overwhelming rush of visitors at the Arunachal arena with many products, like herbal tea, organic tea, king chilly pickle, prawn pickle, bamboo shoot pickle proving very popular among visitors and buyers.