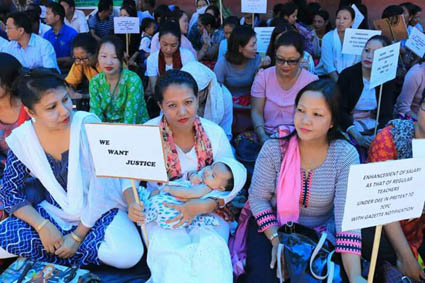 Govt declares SSA teachers' agitation illegal
ITANAGAR, Nov 6: The teachers appointed under Sarva Shiksha Abhiyan (SSA) across the state on Monday launched the three-day agitation even as the state government has declared it illegal.
Link Secretary (Education) J Angu has instructed all the Deputy Commissioners (DCs) to direct the agitating SSA teachers of their respective jurisdiction to attend schools and perform duties as usual.
"Appropriate action would be initiated against absentee teachers as per law," the Education Secretary said, and asked the Deputy Commissioners to furnish the list of absentee teachers, who resort to agitation defying government assurance to look into their demands.
As per information received from the Central Executive Committee, All Arunachal Sarva Shiksha Abhiyan Teachers Association (CEC, AASSATA), around 6815 SSA teachers from 2030 Primary and 1003 Upper Primary schools across the state took mass casual leave and sat on dharna in front of their respective DDSE cum DPO offices in the district headquarters on the first day of the three days democratic movement to register strong protest against non-fulfilment of their demands.
The Central Executive Committee of AASSATA on October 26 decided to go for a three days mass casual leave following expiry of the ultimatum served to the government without yielding result.
The AASSATA's demands include enhancement of salary at par with regular teachers under Director of Elementary Education and in compliance with the 7th CPC, along with gazette notification and batch wise regularization.
Holding the state government the sole responsible party for the educational losses due to the ongoing agitation as the association gave the government enough time to address the demands, the CEC AASSATA strongly urged the government to fulfil the demands at the earliest.
Few SSA teachers posted in Namsai said that they would continue with the democratic movement until the state government accepted and fulfilled their demands.
Namsai DDSE, T Pabin said he was aware of the impact it would have on the ongoing academic session, but the teachers are exercising their democratic rights. He would be sending the factual reports to the higher authorities.
Reports of joining the state-wide agitation by the district AASSATA units of Upper Subansiri, Lower Subansiri, East Kameng, Namsai and Changlang (HQs) were received till filing of this report.
Meanwhile, the Arunachal Civil Society (ACS) appealed to the Government of Arunachal Pradesh to look into the demands placed by agitating teachers working under the SSA.
In a press release, the ACS claimed that most schools operating in the remote areas are being affected due to the strike called by SSA teachers.
"The state government keeps on formulating countless new programmes and policies, but there is no proper policy in favour of SSA teachers. Also, the condition of government schools is pathetic, but no one seems interested to work towards improving them," the ACS added.