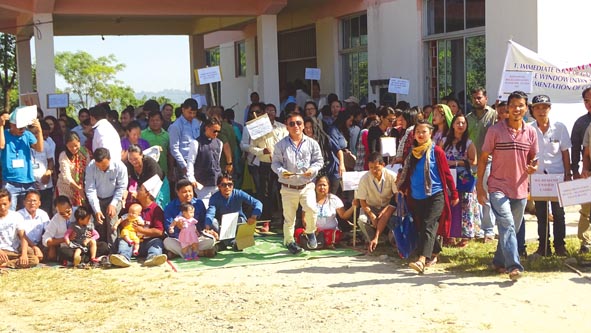 ITANAGAR, Nov 8: The third and final day of the statewide mass casual leave of the All Arunachal Sarva Shiksha Abhiyan Teachers' Association (ASSATA) ended on a peaceful note across the state with little to no response from the authorities concerned.
Around 6815 SSA teachers from 2030 primary and 1003 upper primary schools also held peaceful sit-in protests in the premises of their respective DDSE cum DPO headquarters.
Speaking to this daily, CEC AASSATA General Secretary, Techi Bollo said that they have received no communication from the authorities concerned following the mass casual leave, which he said was a disappointment as several students suffered.
He said that the members did receive unofficial appeals to withdraw their protest, but they rejected the appeals saying that unless their demands were considered in black and white, with proper formulation.
The only official communication was the order of November 5 last from the office of Link Secretary (Education) J Angu, citing the mass casual leave as illegal.
Bollo also said that the executive order could not be considered valid as it was issued on a Sunday and the teachers had applied for their casual leaves prior to the order.
On October 26, the Central Executive Committee of AASSATA had decided to go for a three-day mass casual leave from November 6 to 8, following expiry of the ultimatum served to the government without yielding result.
The AASSATA's demands include enhancement of salary at par with regular teachers under Director of Elementary Education and in compliance with the 7th CPC, along with gazette notification and batch wise regularization.
The CEC AASSATA reiterated that the state government would be solely responsible for educational lose incurred due to the democratic movement of SSA teachers as it failed to create proper policies on the demands of the teachers.
It also said that the Association had given ample time to the Government of Arunachal Pradesh to meet up with the demands before the commencement of the protest.