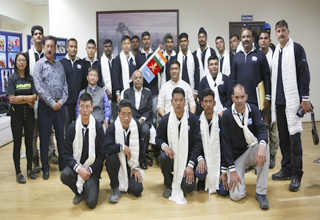 ITANAGAR, Nov 10: Chief Minister Pema Khandu today flagged-in the Mt Trishul Expedition, conducted by the Dirang based National Institute of Mountaineering and Allied Sports (NIMAS).
The expedition comprising of 18 members from the Indian Armed Forces and three civilians from Dirang was flagged off by GoC, 7 Infantry Division, Missamari on October 8. On October 22, 10 members of the team reached the summit of Trishul 1 at 23360 ft.
Trishul is a group of three Himalayan mountain peaks of western Kumaun, with the highest (Trisul I) reaching 23360 ft. The three peaks resemble a trident and form the southwest corner of the ring of peaks enclosing the Nanda Devi Sanctuary, about 15 kms west-southwest of Nanda Devi itself.
The main peak, Trisul I, was first climbed on June 12, 1907 by T. G. Longstaff along with two other Britons, three Alpine guides and few porters. The climb was noted also for the first use of supplementary oxygen in a major climb.
NIMAS Director Col Sarfraz gave a detailed presentation on the 15-day expedition and explained the difficult terrain and harsh weather conditions faced by the team. Unfortunately, on its descent from the summit, two of the members got frost bites and one had to be physically piggy-backed to the base camp and evacuated through an Indian Air Force chopper. Both of them are recuperating in an army hospital at the moment.
"This expedition is basically a training and a prelude to the main aim of climbing the highest peak of the world, Mt Everest," Col Sarfraz informed.
He said NIMAS plans to send its team on the Mt Everest Expedition sometime in 2018 and the decks are being cleared for it.
Khandu informed the members of the recent visit of Defence Minister Nirmala Sitharaman to the state capital and his discussion with her regarding NIMAS. He said that the Defence Minister has consented to lay the foundation for the expansion of the institute anytime in the near future.
The Chief Minister later inspected the display of gears for various adventure sports put by the institute and gave away certificates to members of the expedition team.
Chief Secretary Satya Gopal and officials of the Sports Department were present during the event.