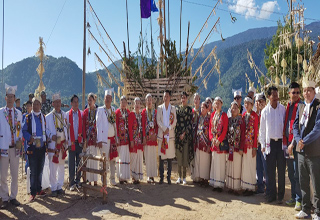 THRIZINO, Nov 12: The six-days Nyethru-dow Festival of Aka (Hrusso) community began with various cultural programmes here on Friday.
Addressing the festive revelers at the inauguration function, Parliamentary Secretary, PHE & Water Supply cum local MLA Kumsi Sidisow appealed to the people to stand united and preserve the cultural heritage of the community. The festival provides us a platform to spread the message of unity and brotherhood and to promote communal harmony among the members of the various communities, he said.
"United we stand, divided we fall. The more we unite, we could support the administration more for the better development of the area and district as a whole," said West Kameng Deputy Commissioner Dr. Sonal Swaroop in her address. She also lauded the indigenous people for maintaining traditional values which signifies the identity of the community.
Among others, Aka Elite Society President, GobardhanNimasow, Organising Committee Chairman, Tsang Dorjee Sidisow also addressed the gathering. The festival shall continue till Nov 15.