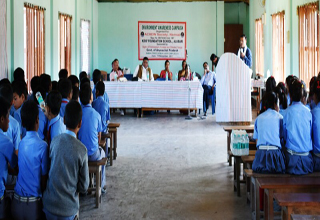 NAMSAI, Nov 13: The ACHEW Society, a Namsai based NGO conducted environmental awareness campaign at Kids' Foundation School, Alubari and Mahabodhi Lord Buddha College, Namsai on Monday.
At Kids' Foundation School, Dr. Joshuo Biswas, Coordinator, Primate Research Centre, Guwahati spoke of the need to conserve nature and environment while Namsai DFO T. Mize called for putting a halt to hunting practice.
Chairman of ACHEW Society Chow Naching Longchout also spoke.
At the Mahabodhi Lord Buddha College, the event was conducted in the evening mainly with the B Ed students, which was also attended by the faculty members and students from other streams.
Dr. Biswas spoke on 'extinction spasm', a trend of mass extinction of flora and fauna and extinction history of a bird species 'Dodo' of Mauritius.
DFO Mize, who attended both the programmes, expressed concern over rapid deforestation, stating that more destruction on the environment is an invitation to more natural disasters.
"Animals abide by the laws of nature unlike human beings," he said, and emphasised the need for conservation of wildlife.
Principal Arun Baruah also actively took part in the interactive session.