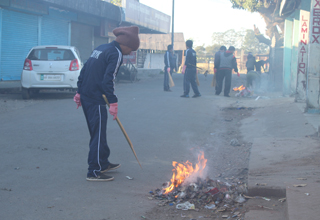 [ Mingkeng Osik ]
PASIGHAT, Nov 13: Hundreds of people from all walks of life took part in a mass cleanliness drive under Swaachata Abhiyaan jointly conducted by Pasighat Municipal Council (PMC), Bogong Banggo Yameng Kebang (BBYK) and Pasighat Market Association (PMA) at market area here on Monday. The volunteers also cleaned Onyok Moyong Burial Ground (Ecological Park) situated near the market.
On the occasion, PMC Chief Councilor Kaling Doruk, BBYK General Secretary Manning Moyong and members of PMA appealed to the public to maintain cleanliness around the vicinity as being the heart of the town Pasighat market should always be kept clean and hygienic.
Deputy Chief Councilor, Kaling Darang, ward number 10 Councilor, Ponung Perme Lego, former Bogong Banggo Kebang (BBK) Secretary Tagom Padung, BBYK General Secretary Manning Moyong also took part in the drive.