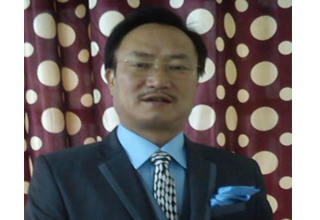 CM, DCM, Governor mourn
ITANAGAR, Nov 18: Former MLA of Doimukh constituency and the current Arunachal Pradesh Agriculture Marketing Board (APAMB) Chairman, Ngurang Pinch was found dead at Hatimatha in Papum Pare district on Saturday.
Pinch with eight-member team had gone for rafting on Friday and stayed on the river bank near the confluence of Popum and Poma rivers, Papum Pare Superintendent of Police, Tumme Amo said.
However, Pinch was found missing early in the morning and his body was found floating at Hatimatha in between Basar Nallo and Rana Ghat on the Assam side, the SP said.
A police team rushed to the spot and later recovered his body, Amo added.
Born in 1964 at Nypain under Kurung Kumey district, Pinch is survived by his wife, three sons and six daughters.
He had won from the Doimukh assembly constituency in 2004 as an Independent candidate.
Meanwhile, Governor Dr B D Mishra and Chief Minister Pema Khandu expressed deepest condolence over the death of Pinch.
"Ngurang Pinch was an eminent social activist, who rendered his valuable service to the people of the state in various capacities during his long distinguished political career," the Governor said in a condolence message.
The Governor prayed to the almighty to give enough courage and strength to the bereaved family to bear the irreparable loss.
"May his soul rest in peace," the Governor prayed.
"I am shocked and deeply saddened to know about the untimely demise of Pinch. In his demise, I have lost an elder brother and a guide, who was always around to support, advice and show me the way ahead despite hard times," Chief Minister Pema said in his condolence letter to Ngurang Yagiam, wife of late Pinch.
In his condolence message, Deputy Chief Minister Chowna Mein said that he worked in close coordination with Pinch as a team in connection with the betterment of Arunachal Pradesh Agriculture Marketing Board.
"Pinch was an upright person who always worked to uplift the farming community of the state. In him, we have lost a good human being and a dedicated social worker", Mein added.
Arunachal Chamber of Commerce & Industries President Techi Lala, General Secretary Tarh Nachung and Chief Adviser Pradeep Kumar, in a condolence message, recalled as to how Pinch was busy in strengthening the APAMB as a viable platform to provide farmers forward and backward linkages in a sustainable manner.
"The state has lost a trend setter in his death," they said, and joined all in praying for the departed soul to rest in eternal peace.
The All Nyishi Students' Union (ANSU) and All Papum Pare District Students' Union (APPDSU) expressed shock and grief over the sudden demise of Pinch.
ANSU President Toko Takam in a condolence message said that Pinch's death is an irreparable loss for the state. In his death, the state has lost a renowned social worker, politician and perfect gentlemen, who dedicated his life for the welfare of people of the state.
"It is a shock to know that Pinch is no more. His untimely death is a great loss to the society, particularly Doimukh constituency," APDSU said in a condolence message.