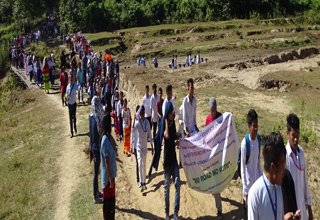 Staff Reporter
KANGKU, Nov 18: Dejected by the deplorable road conditions of Kangku circle under Likabali Assembly Constituency, hundreds of people took to a referendum rally demanding proper road connectivity, with the "No Road, No Vote" movement.
Likabali constituency is without an MLA since September after the passing of Jomde Kena, who was the local representative and Health Minister of the state.
General Secretary of Dajo Ngomle, Dolok Banggo said that decision has been arrived at after successive governments have failed to bring proper connectivity to the circle.
"Kangku circle with 24 notified villages is yet to be connected by good road communications and the people have been facing a lot of untold sufferings due to the indifferent attitude of political leaders."
Chairman of 'No Road, No Vote' Central Committee and Anchal Samiti Chairperson, Tanga Buchi also lambasted successive governments for their failure in taking care of their constituency.
Several goan burahs also expressed their displeasure on the connectivity issue and assured their full support to the movement. They also said that if the government initiates action against them, they would give away their red coats in the interest of the area.
Highlighting the importance of Kangku as it is located on the foothills bordering Assam, NEFA Indigenous Human Right Organisation Chairman, Domin Loya said that the area has experienced several boundary disputes and that the area can truly develop only if there is proper connectivity and communication.
He also said that the issue would be raised with the Government of India and the Election Commission of India, besides the state government.