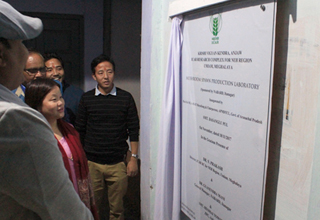 HAWAI, Nov 19: A mushroom spawn production laboratory was inaugurated by Hayuliang MLA Dasanglu Pul on November 17 last at the CHC building in Hayuliang.
The laboratory has been sanction by the NABARD for KVK Anjaw.
Appreciating the steps taken by KVK Anjaw in establishing the mushroom spawn production laboratory in Anjaw district, Dasanglu called on the participating 68 farmers and rural youth to take interest in mushroom farming for sustainable livelihood though non-farm activities.
KVK Anjaw Senior Scientist & Head, Dr Manish Kanwat also emphasised on the benefits of mushroom cultivation to the district.
He informed that spawn availability was limited to few districts like Papum Pare, East Siang and West Siang, but with the establishment of the production unit, mushroom spawn will be made available to interested mushroom growers not only of Anjaw district but also of neighbouring districts as well.
Plant Protection SMS, Dr Sanpon Ngomle briefed on the laboratory equipment and other reagent involving in mushroom spawn production.
On November 18, KVK Anjaw organized the "Strategies for Doubling Farmers Income by 2022" themed programme at the community hall of Hayuliang, where Chaglogam Anchal Samiti Chairperson Chunu Tindiya urged the ICAR Director and NABARD General Manager to grant schemes for the farming community of Anjaw district.
NABARD General Manager, Dr Gyanendra Mani highlighted about the subsidiary schemes financed by NABARD to other institutions and commercial banks and urged the participant farmers to avail farmer-friendly schemes. He also exhorted farmers to focus on non-farm activities, like weaving and mushroom production.