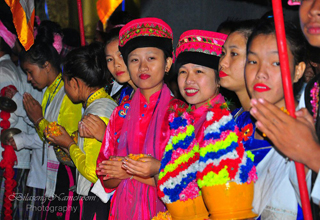 [ Chow Bilaseng Namchoom ]
NAMSAI, Nov 20: Tai communities of Namsai district celebrated Pee Mau Tai 2112 (2017) (the New Year) with traditional gaiety at the Poi Pee Mau celebration ground here on November 18 last.
Colourful fireworks lit up the night sky as people from different walks of life, dressed in their best traditional attires, gathered in the festival ground to witness the Haap Pee Mau (welcoming of the New Year).
The waiting night for the New Year begun with a formal ceremony of offering prayers, seeking blessings from the Sangha, Lu Kongmu, illumination and release of fire balloons (fung fai) and colourful cultural events.
Earlier in the evening, a public meeting was held to discuss on various ways to celebrate the event next month in a much larger and grand manner. Traditionally, according to the Tai calendar, the New Year is celebrated during the first moon of the first lunar month. This year, in 2112, it falls on November 18.
November being the busiest month for agrarian people, the Poi Pee Mau 2112 festival organising committee, in consultation with the Tai Khampti Development Society (TKDS) has deferred the dates of celebration to December 13 to 15 this year.
This would allow the people to complete all types of agricultural works and enable them to participate in the festival.
The New Year ceremony was organised by the Tai Khampti Development Society. The celebrations will take place in Ho Chayan, Namsai from December 13 to 15 next.