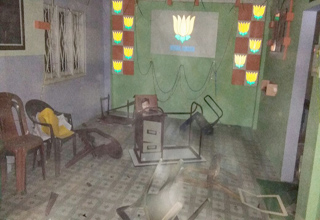 Staff Reporter
LIKABALI, Nov 29: With the date of by-polls for four states closing in, the battle for the BJP ticket to 28th Likabali Assembly Constituency seems to have gone out of hand, as an angry mob reportedly vandalised the BJP mandal office in Likabali at around 9 pm on Wednesday.
Sources in Likabali informed that the mob was allegedly upset with the recommendation of Gensi ZPM, Kardo Nyicyor as the BJP candidate to the 28th Likabali polls.
Demanding that the BJP maintain the cadre discipline of the party, sources informed that the youths warned that if Nyicyor is given the party ticket, people of Likabali would boycott all events and leaders of the BJP at Likabali.
Reportedly, Nyicyor has joined the BJP fold only last month from the Congress party.
Speaking to this daily, the Lower Siang Superintendent of Police also confirmed that the BJP mandal office was indeed vandalised, but nobody was found at the site of incident when the police arrived.
The police found that the window panes and doors were broken, with some furniture damaged.
However, he could not ascertain the cause of the vandalism.
ZPM Nyicyor and state BJP President, Tapir Gao could not be reached for a statement by this daily.