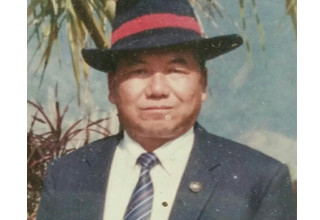 PASIGHAT, Nov 29: Noted bureaucrat J M Tangu breathed his last on Wednesday at about 9.55 am at his private residence in Mirsam.
Tangu, son of late Samat Tangu (father) and late Yakak Taloh Tangu (mother), was born in Taki Lalung (old) village, a few kilometres away from Pasighat.
Graduating from St Anthony's College, Shillong in 1963, late Tangu was appointed as Assistant Political Officer II. During a brief stint in the Secret Service Bureau on deputation, and successfully undertook a gruelling training in guerrilla warfare.
In his long illustrious career as an administrator, he served all over the state in various capacities, such as APO (Yingkiong), Area Organizer (Roing), Extra Assistant Commissioner (Ziro, Pasighat), Additional Deputy Commissioner (Pasighat), Deputy Chief Project Officer (Itanagar), Deputy Commissioner (Pasighat, Bomdila, Tezu), Secretary (Supply &Transport) and Commissioner of various departments.
Late Tangu contributed immensely with his knowledge and experience in development of the state during his long tenure as Commissioner to the Chief Minister for 10 years.
After retiring from service on 28 February, 2002, he was appointed as the State Election Commissioner on 16 September the same year.
The 75-year-old civil servant is survived by his three sons, two daughters and grandchildren.
His last rite will be performed on Thursday at his Mirsam residence.
Reacting to the news of his demise, Chief Minister Pema Khandu and Deputy Chief Minister Chowna Mein expressed shock and grief.
In a message to late Tangu's family, the Chief Minsiter said, "I know this would be the most trying times for the family members to cope with the irreparable loss, I hope my humble words of consolation would ease the grief even if a little. In this moment of grief, me, my family, colleagues in the government and people of Arunachal Pradesh extend our solidarity with you and share the pain inflicted by one of the greatest truths of life. May the soul of one of the ablest sons of Arunachal Pradesh rest in peace in heavenly abode," Khandu said and prayed to Lord Buddha to bestow family, relatives and friends with strength to bear the irreparable loss.
The Deputy Chief Minister also extended his condolences to the family and said, "I am fortunate enough to have closely associated with late Tangu and the family members of such an efficient administrator and dedicated officer, who always kept the public's interest above self-interest and dedicated his entire youthful life to the service of the state. His contribution in the public service during the growing stage of the state will always be remembered".
Former Chief Minister Gegong Apang also expressed shock at the news of the sad and sudden demise of Matin Tangu.
"We have lost a great patriot and man of vision in the state. His good deeds toward the society will remain in our minds forever", Apang asaid and he, along with his entire family conveyed heartfelt condolences to the bereaved family members.
Lok Sabha MP Ninong Ering, Parliamentary Secretaries Kaling Moyong and Tatung Jamoh, former minister Bosiram Siram, DC Tamiyo Tatak, ZPC Kaling Dai and PMC Chief Councilor Kaling Doruk and others expressed deep shock and extended their condolences over the former bureaucrat's demise.